New Jersey County Maps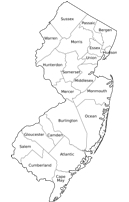 New Jersey County Maps offers a huge collection of all 21 counties in NJ in PDF and JPG format. Also included on all county pages are not only the maps but also interesting facts and history about each county.
Use the maps to color, share and learn. They're great for schools and for parents wishing to teach their children more about the county in which they live.
All county maps of New Jersey are free to print and share.
Whether it's a history lesson, you're looking for directions or a GIS mapping session, we think we have the best maps available for all NJ counties. All maps are in PDF format and available for instant print or instant download.
Our free county maps website digs deep into information and happenings of each NJ county just for you. With each New Jersey county we also listed the events and festivals just to make sure your trip to NJ is worth it.
Check The NJ County Events for Family Fun!
Are you a resident of NJ and don't know what to do with the family? A short getaway, or "staycation" will certainly break the humdrum of everyday life. We have even included a "Get Directions" section so that you can print your map and be on your way without getting lost! Watch for festivals, bazaars, street fairs, carnivals and everything in between in the Garden State. New Jersey has a lot to offer and with our events and festival listings you're sure to have a great family vacation.